Good Friday 02/04/2010
On Good Friday, April 2, 2010, the GOLF Platoon (German Paratroop Bn 373, SEEDORF) was conducting its mission to sweep streets for IEDs and to remove them. Around 1300 hrs local time, they were ambushed by approx. 30-40 Taliban fighters. They were attacked with small-arms fire and antitank weapons. Three soldiers were wounded initially, two of them seriously. Despite heavy enemy fire, US Medevac helicopters were able to evacuate the wounded to the hospital in KUNDUZ. During the eight-hour firefight and the disengagement from the enemy, one vehicle (type Dingo) ran into an IED. Another four soldiers were seriously injured. In the course of the day, three soldiers died from their injuries. They leave behind parents, spouses, partners, siblings, daughters and sons. Soldiers through and through, they had sworn to protect their country and made the ultimate sacrifice.
HFw Nils Bruns (35) *01.10.1974 + 02.04.2010 Kunduz, AFG
SG Robert Hartert (25) * 27.06.1984 + 02.04.2010 Kunduz, AFG
HG Martin Augustyniak (28) *28.09.1981 + 02.04.2010 Kunduz, AFG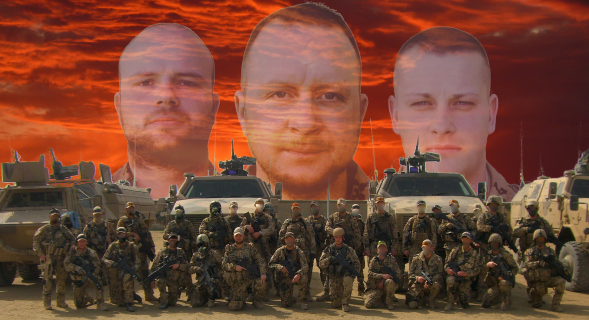 A full description in German language you can read here
So how will this years Good Friday Battle run?
Starting on the 2nd of April until the 2nd of May, individuals, groups, affiliates, units, bases will perform the GFB workout on their own time and accord. We would love to see your pictures, content, stories and maybe even memories of past GFBs online with the hashtag #goodfridaybattle or sent to us on Instagram, Facebook or email and we will post it for you. At the end of the 4 weeks we will again create a big collage of all pictures we could find.
Let's show the world, that lest we forget!


What is new in 2021 and the future?
Same but different! Lets become strong together for a good cause, we the founder of GFB and Veteranenkultur e.V. have decided and so we united for the project GFB and will keep the memorial up together. From now on Veteranenkultur e.V. supports us in organizing GFB and creating future projects.
We created a "GFB Fund" with Veteranenkultur e.V. to support future projects for Veterans, Wounded Warriors and survivors of the Good Friday Battle in Afghanistan.
Stay with us and and keep up the good cause!
#
The Workouts
Good Friday Battle
20 min AMRAP
2, 3, 4, 5, … Burpees (ascending Ladder)
4 Hand Release Push-Ups
10 Lunges each Leg
Wear a Weightvest or Backpack if possible
Men 20lbs/10kg
Women 15lbs/ 6kg
Good Friday Battle Rx
20 min AMRAP
2 Rope Climbs
(15ft/4,50m)
4 strict deficit Handstand Push-Ups
(Male 3,5in/9cm – Female 2in/5cm)
10 Pistols each Leg
GOOD FRIDAY BATTLE – History
Already in 2015, the idea was born that a Hero WOD should be developed in memory of our comrades killed in action. The workout was intended to reflect the date of the Good Friday Battle (02/04/10). Therefore this workout is composed of 20 minutes of AMRAP, followed by 2 rope climbs for the day, 4 strict deficit handstand push-ups for the month, and 10 pistols per leg for the year.
2016
On the 6th anniversary of the Good Friday Battle, we published details on the #goodfridaybattle WOD and shared it on all social media available to us. We received a much greater response than we had expected and soon received a great number of replies along with the promise to complete the workout within a month. Also the operators of the website "WOD Finder" immediately agreed to support us by adding our WOD to the website. Once again, many thanks for this. It was particularly important to us to have the narrative of the fate of the three soldiers killed in action on the website on the day of the workout. We received pictures of whiteboards, classes and athletes who completed the workout. We analyzed all messages received and found that 326 male and female athletes took part in the WOD (not broken down into the categories of Rx or Scaled). Also on behalf of the relatives of our comrades killed in action, thanks a lot for your effort.
Owing to this positive response, we decided to make the #goodfridaybattle WOD grow even further in 2017.
2017
Just as planned, the kick-off for the #goodfridaybattle WOD took place in Herzogenaurach on 1 Apr 2017. Apart from approx. 20 active participants, also the families of our fellow soldiers killed in action as well as former fellow soldiers of the Golf and Foxtrot platoons took up the invitation. After the welcome, we were free to start fighting and perspiring, at last. Irrespective of the category of our WOD (Scaled or Rx), we completed it in memory of our fellow soldiers killed or wounded in action. ​I'd like to particularly mention Robert's brother Martin, who took up the challenge of completing the Workout Rx without any previous CrossFit experience.
Art, a fellow soldier who participated in the event, went to great lengths for giving a summary of that day in his blog.
Good Friday Battle – das deutsche Hero WOD
16 Apr 2017 – We were the guests of our friends from CrossFit Sturmflut in Rostock. There the workout was completed in the classes on Hero Sunday. 24 early risers took up the challenge and fought their way through the workout subsequent to an extensive skill work. The atmosphere was great and the participants' performance was impressive. Thanks a lot for your support!
22 Apr 2017 – In Hamburg, my CrossFit home, Simon, the owner of the box, did not hesitate for a second to support me with the Battle. So, the #goodfridaybattle WOD was put on the whiteboard also at the Crossfit St. Pauli box. After a short introduction and a warm-up phase, also all participants there put their hearts and souls and sweat in commemorating the soldiers killed in action. The workout challenged everybody at his/ her individual level. Everybody had good fun and the first pistols were completed before the day ended with a success also in Hamburg. Thanks a lot for the extraordinary feedback.
2 May 2017 – After the scoring had been brought to a close, the winners were announced. We'd like to to extend our warmest thanks to all participants, and we hope to welcome you again next year for the GFB18.
We have taken the first step and gained initial experience. Next year we want to go one step further and to grow. As you know, after the event is before the event, and we have already started with the preparations in order to ensure that things will go even more smoothly next year. Just wait and see. So, stay fit and well until we meet again, and keep working on your skills.
After a break in 2019 we are back for the 10th anniversary of the GFB. At this point we want to note that last year we had an incredible amount of messages, notes and supporters doing the GFB workout in German Boxes – thank you very much for this!
Partly due to this, we have decided to make sure we can continue growing awareness around GFB and cement it as a fixed date throughout the community. We've purposefully avoided an online ranking system and other sponsors this year and are back to the spirit of the first years.
If you register now, you will receive the official GoodFridayBattle 20 shirt and will support "Veteranenkultur e.V."- a charity club who cocreated a memorial for Martin in Bielefeld Germany last June.
With your DONATION for above mentioned "Veteranenkultur e.V." Please click this link Veteranenkultur e.V. to read more about the Club their projects and their memorial for Martin.